About the Lake
Lake Mascuppic is a 209-acre, spring fed lake. It has a Massachusetts state boat ramp (shown by the red star), located in Dracut, although the bulk of the shoreline is within Tyngsborough.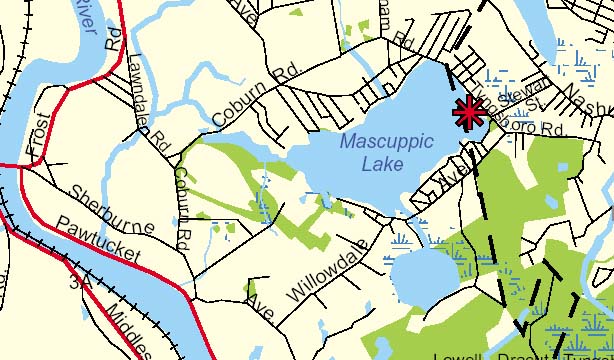 Because our shoreline is developed, and our lake is well-enjoyed, we have concerns that would matter less in a remote area.
Lake Safety and Boating
Issues that were raised recently were the need to re-institute the patrol boat to educate boaters about safe practices. We encourage everyone to know the "rules of the road" before operating any kind of watercraft.
Some boats being put in the water seem to be sized for the Atlantic Ocean rather than a 200-acre lake. Overly large speedboats, too many boats, and fast boating in shallow areas negatively affect the sport fish habitat by clouding the water. Personal watercraft (jet skis) have are frequently cited for activities ranging from chasing the wakes and endangering children being towed behind boats, to fueling their craft in the water.
Weed Control
Watercraft that have been used in other bodies of water should be washed before being put into Lake Mascuppic to avoid transferring foreign and unwanted plant growth into our lake. The Tyngsborough town ramp and the state boat ramp have no washing facilities, and it's up to every residential owner to clean their boat before putting it into the water.
In the past, we've treated the lake with herbicides. Sonar was applied to treat fanwort (Cabomba) and the Diquat was used for several years to control and curly leaf pond weed. However, we must be vigilant to keep these weeds from recurring and others from establishing themselves.
Waterfowl Feeding
Children have come down with "duck itch" and impetigo, public areas become littered with bread bits and crusted with duck excrement, and yet convincing people not to feed the ducks seems to be difficult at best. Thanks to waterfowl attracted by the feedings as well as waterfowl introduced from the neighborhood, we have plenty of ducks. They become a nuisance on shorelines that aren't built up with rock barriers or retaining walls, and compete with wild birds for fish.
Have you seen our great blue heron? We miss the ospreys! Maybe if we had less tampering with the waterfowl population, we'd see more of these unique and desirable birds.
Algae Bloom (Green Water)
To grow and thrive, algae need warm weather, calm water, and plenty of nutrients. Our lake bottom is rich in nutrients, a holdover from the septic-system era. Storm water runoff flushes lawn and garden fertilizers into the lake, and the conditions are right for a good, healthy algae bloom. If it makes your plants grow, it makes algae grow, too!
You can play a part in reducing nutrient runoff by using slow-release fertilizers. They might be a little more expensive, but you don't need to apply them as often. In the long run, the cost difference levels out because the plants absorb more of the nutrients, so less is washed away. This is one instance where you get what you pay for!
Lake Levels
Unlike other parts of the country, we had adequate rain most of the summer. Our lake level never dropped much. Consequently, there's been heavy erosion along some of the sandy shorelines, and residents who wanted to do maintenance on their retaining walls haven't been able to do it.
Copyright © 2004-2006 [Lake Mascuppic Association]. All rights reserved.
Revised: 07/31/06